Thank You For Subscribing...
This is the best presentation that Pastor Williams did available exclusively from LindseyWilliamsOnline.com...
| | | |
| --- | --- | --- |
| | The Energy Non-Crisis Now Available On Amazon Kindle | |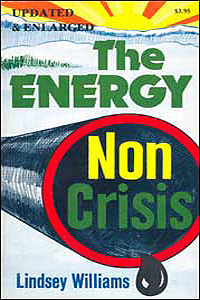 In the year 1971 Lindsey Williams went to the state of Alaska to become an aviation missionary. Shortly after arriving in Alaska, Mr. Williams heard the oil companies were going to build the Trans-Alaska Oil pipeline and that 25,000 pipeliners were going to converge on the state to build it. Mr. Williams consequently volunteered his services as chaplain on the pipeline. Shortly after becoming chaplain, Alyeska Pipeline Service Company offered him executive status and invited him to sit in on their board meetings in an advisory capacity to help the relationship between management and labor. What he heard over the next three years time would change his life. He learned that OPEC had nothing to do with the price of oil but that the elite of the world controlled it. Mr. Williams knew he had to put into print what he saw and heard in order to inform the American people. His story is documented in The Energy Non Crisis.



The book addresses the problem of Oil in America from a non-bias prospective. Recommend that anyone who concerns themselves with the cost of energy, gasoline and natural gas in America must read. Great book to occupy your time with instead of the television.



Jose



A most informative presentation from reliable sources. Highly reccommend for those interested in surviving the coming years. Wonder who really is running things!!


Jerry F. Odeneal



How did we the people, allow this to happen? This should be required reading for not only american's but all the world's inhabitants



Royce Bednarz
Over 20 Presentations Detailing 40 Years Exposing The Elites Plan for Humanity and this Planet! Available Online For The First Time!
Over 46 Hours of Content Now Available to Watch & Listen To Instantly On Your Computer, Laptop, Tablet or Mobile Phone!
Every DVD and Presentation Produced by Pastor Lindsey Williams until the end of 2014 now available to view online at LindseyWilliamsOnline.com
Special Events Scheduled For 2015
2015 Elite Agenda
Global Currency Reset
Elite Emergency Data
Healing The Elite Way
New Signs Of The Elite
The Next 4 Years
How To Survive The Next Four Years
Secrets Of The Elite
2012 The Beginning Of The End
Middle East: The Rest Of The Story
Confessions Of An Elitist
The Elite Speak
Tragedy - Hope - Reality
Jonathan May Economic Hitman
Torn From The Land
Are They Worth The Risk? Immunizations/Vaccines
Deadly New Diseases And Microbial Mutations
Three Different Versions of The Energy Non-Crisis Presentation
EXCLUSIVE SPECIAL OFFER!
Membership is available for the gift price of just $77!
Usual Gift Price is $97!
Order through the link below
save $20 from the regular price of $97!
| | | |
| --- | --- | --- |
| | Latest News & Information | |
Please visit LindseyWilliams.net for the latest news and information from Pastor Lindsey Williams
| | | |
| --- | --- | --- |
| | Lindsey Williams On Facebook | |
Please contact us using the contact form at LindseyWilliams.net